Brand Culture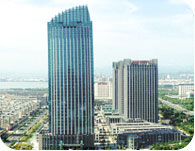 About us
>> Establish, Origin of Larbene
Establish
In the early 1980s, Choi walked hundred miles from his hometown to carve out his business in Zhuhai with all his fortune – a plate trailer, a dining table and his family.
It's really the hardest time in his life. Although he worked day and night, what awaited him was bankrupt. He had to left Zhuhai and returned to his hometwon. And then he went to Shenzhen. Later he transferred to Guangzhou. Although god didn't give his smile and patronage to this poor man, never did Choi complain. He kept carrying on, struggling ahead. Finally he carve out his successful career in Zhejiang.
Throughout Choi's 30 years, failure kept knocking at his door again and again. But no matter how much pain Choi suffered, he didn't regret any. What supports him is the strong mind and reponsiblity for his family which also lead to today's success on his career and family.
The story of LARBENE, it's the essence of Choi's reflection (Philosophical thinking) on carrer, family , life and happiness. Life is like a voyage. And home is the habor where we start our sailing, and where we finally return. Home stays at the core of our being no matter where our life's journeys take us.
In Homer's Epic, Our hero Odysseus stands against the tempation of Calypso. He said:" My honoured goddess, I know your beauty will never fade through time while my wife is getting older and wilted day by day until her death. But I still want to go back, there is my home." In Greek mythology, Endymion chose everlasting youth in perpetual dreamy sleep because of his love to Selene and the eagerness for home.
Home, endowed us the life and connotation of "LARBENE".
Origin of Larbene
Larbene originates from the Latin compound word "LARBENE" . Lar is the name of the patron saint of home. Benene means good, healthy and developping. LARBENE represents our wish that under the blessing of god, our family life is always filled with joy and happiness.
Value and Connote of the brand
As memers of LARBENE, we always remember the spirit of our brand – integrity, Persistence, diligence.
With thankful and devout hearts, we focus on every detail of our products. Each of our product is like a small plant watered with our effort and hard working that grows to a towering tree. And we hope the LARBENE products may bring your family good luck, best wishes and happiness.